Staff
African-American Resource Center
Welcome from the staff of the African-American Resource Center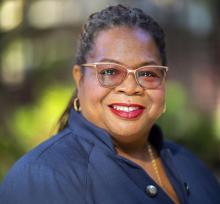 Valerie Dorsey Allen, LSW, DSW
Director
valeriea@upenn.edu
Valerie Dorsey Allen, DSW, brings to the position extensive experience as a counselor and career development officer with Philadelphia Job Corps. She holds a B.A. in Criminology from Indiana University of Pennsylvania and an MSW and DSW from the University of Pennsylvania. Her dissertation entitled Educational-Entertainment as an Intervention for Adolescents Exposed to Community Violence is published online at ProQuest and Scholarly Commons.
Dr. Allen has also co-written articles with Dr. Phyllis Solomon on the same topic for the Journal of Prevention and Intervention in the Community and The Journal of Human behavior in the Social Environment. She is focused on addressing the needs and interests of the Penn community and on improving the quality of life for faculty, staff and students with a particular focus on those of African Descent.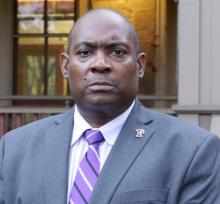 Darin Toliver, MSW
Associate Director
toliverd@upenn.edu
Darin Toliver, MSW, has over 20 years professional experience in social work, in the areas of childhood development, mental health, and education. Darin holds a B.A in Political Science from Temple University and a MSW from the University of Pennsylvania's School of Social Work ('02). Darin serves as the chairperson for the Men of Color and is a co-chair of the Dr. Martin Luther King Jr. Symposium.  As a lifelong community advocate, Darin is an acting Commissioner on the Mayor's Commission of African American Males (MCAAM), a position appointed by former Mayor Michael Nutter and current Mayor James Kenny.
Darin is currently a PhD candidate, working on his PhD in Social Work Education at Widener University, with a particular interest in evidenced-based research and strategies that will decrease gun violence. Currently a member of the National Association of Social Workers, he was selected by the social impact organization Generocity as one of 12 people of color strengthening the social impact sector in Philadelphia.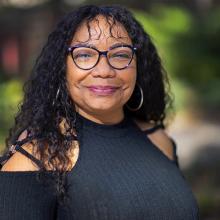 Colleen Winn, MPA
Staff Assistant
cowinn@upenn.edu
Colleen brings to AARC a spirit of professionalism, enthusiasm, passion, and teamwork. She epitomizes the spirit of AARC which is centered on serving the Penn community. She has been at AARC since August 2007 and is AARC's link for faculty, staff, students, campus organizations and community partners.
Colleen has over 20 years of counseling, program planning, and training development experience. She holds a B.S. in Social Rehabilitation/Social Service from Sam Houston State University, Huntsville, Texas and a Master's in Public Administration with a concentration in Non-Profit Management from Keller Graduate School of Management. She also sits on the board of the Center for Aids Research and is a member of Delta Sigma Theta Sorority.
Address
3643 Locust Walk
Philadelphia, PA 19104-3199
Telephone Numbers
Tel: (215) 898-0104
Fax: (215) 573-9117