Annual Women of Color at Penn Day 
African-American Resource Center
Dr. Helen O. Dickens
Helen O. Dickens was one of the first African-American women to graduate medical school at the University of Illinois at Chicago. Dr. Dickens headed the OB/GYN department at Mercy Douglas Hospital and University of Pennsylvania where she pioneered the development of teen pregnancy and medical minority affairs programs.
Dr. Dickens continued to teach, recruit students and worked tirelessly to increase the presence and permanence of women of color at Penn. Her contributions towards the enhancement of the Philadelphia community spanned a period of over 50 years.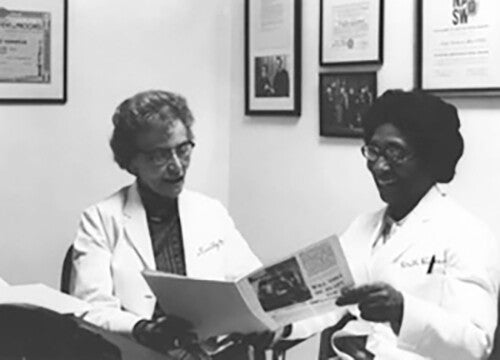 Herstory. How It All Began...
In mid-February of 1988, Ms. Suzanne Brooks, then Director of Affirmative Action at the Penn State University and a member of NIWC's Board of Directors, wrote several women at Penn to urge that we join a national day of celebration, commemoration and affirmation of women of color. The National Institute for Women of Color (NIWC) proclaimed March 1, 1988 as the first National Women of Color Day.
In the ensuing two weeks, a small group of women organized Penn's first annual celebration which was held at Penn Tower Hotel on March 1, 1988. The sixty-five women in attendance were treated to a spiritual and intellectual feast so profound, enlightening and empowering that they decided to institutionalize the celebration and invite students, faculty and staff members of the community to attend.
Women of Color at Penn Annual Awards Luncheon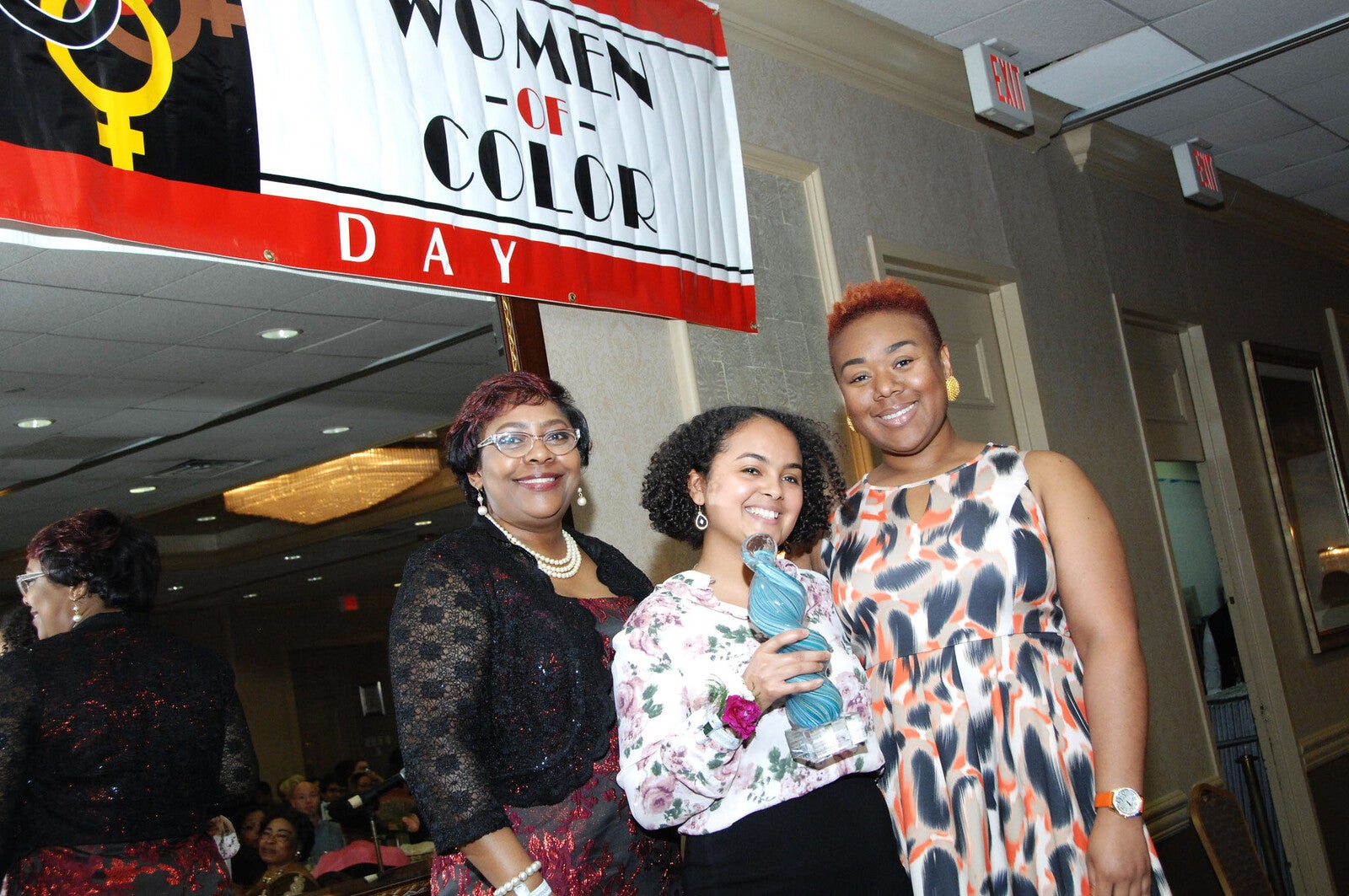 A chronology of Women of Color at Penn highlights include:
1988
Marcia Rafig, former General Manager of the Penn Tower Hotel, first Woman of Color award recipient
1990
Special category established for student honorees.
1991
First Certificates of Merit for students, faculty, and staff were awarded.
Dr. Helen O. Dickens Lifetime Achievement Award was established and presented to its namesake for her lifetime of achievement. Subsequently, only exemplary candidates with a long (20 years or more) history of service to women of color in the Penn and Delaware Valley communities merit such an honor as the Dr. Helen O. Dickens Lifetime Achievement Award.
Awards Luncheon attendance reaches 350.
1993
Attendance grows to 500 people (the maximum capacity for the Penn Tower Ballroom.)
2001
$1000 awards presented to undergraduate, graduate, and non-traditional evening school student scholars to encourage highly motivated and achieving students to continue pursuit of their degree.
2002
New name given to celebration - Women of Color at Penn.
2003
Year-long seminar series was established and grant was awarded from the Provost Diversity Fund. Closing of Penn Tower Hotel necessitates relocation to Houston Hall and simulcast between two spaces to accommodate growing numbers.
2004
Lecture series and simulcast continued.
Second and final grant from the Provost Diversity Fund secured. Intensified efforts to identify funding sources for Women Of Color At Penn celebration.
2005
Expanded annual winter vendor fair includes Silent Auction and nets significant revenue.
2007
20th anniversary Women of Color celebration chaired by past chairs remaining in the Penn community. Attendees include several founders.
2008
Women of Color Planning adds first annual Women of Color Conference featuring Penn scholars and Philadelphia leaders and focused on violence and its impact on women of color communities.
2009
Second annual conference focuses on health disparities affecting women of color. The title for this conference was, "Disparities in Health: What Can Colleges, Universities, and Health Care Providers Do To Navigate Towards Solutions?".
Committee participates in the National Shadow Day by hosting fifteen students from an area school. The program included mentoring, a career panel, and a campus tour.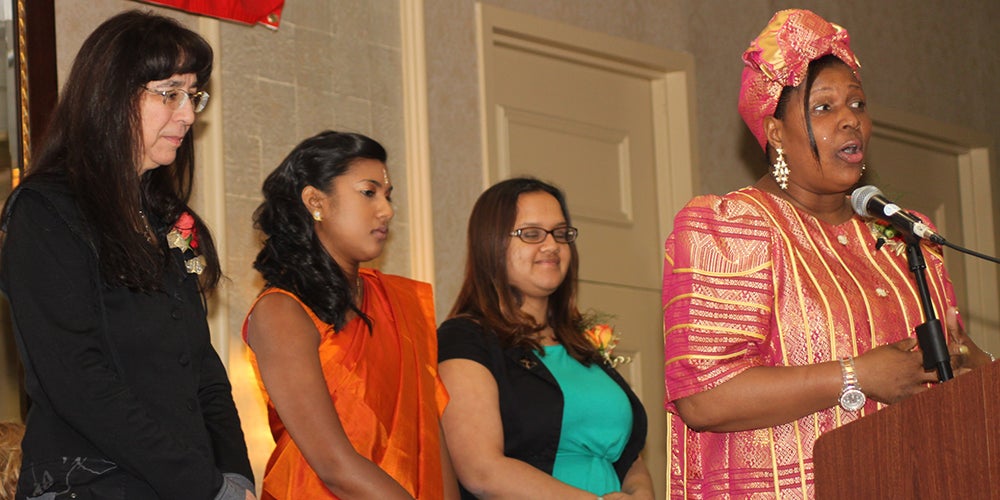 2010
Strategic Planning Committee added. Responsibilities included identifying new funding sources.
Community Recognition Award added.
2011
Long time supporters of Women of Color at Penn receive special recognition. Recipients include Noted author, Leslie Esdaile Banks, Philadelphia City Councilwomen Jannie Blackwell, Christian Association Director Reverend Beverly Dale, and WOCAP financial officer Constance Gordon.
2012
25th Women of Color at Penn Anniversary celebration which included recognition of past chairs. The conference for this special celebration was , "Women of Color: Then and Now."
2013
The 26th awards conference was chaired by past executive committee chairs
2014
Outstanding Legacy Award recipient, Winnie Smart-Mapp retiree, Barbara and Edward Netter Center for Community Partnership.
2015
Instituted the hosting of a campus/community wide reception.
2016
Instituted the WOCAP Networking Happy Hour which provided an opportunity to socialize with old colleagues and meet new ones.
2017
30th anniversary Women of Color celebration chaired by past chairs. The awards ceremony moved to the Inn at Penn for this celebration.
2018
Mistress of Ceremony was Fox 29 Good Day Philadelphia Co-Host, Alex Holley
Tiffany Anderson-Purvey, Posthumously presented the "Joann Mitchell Outstanding Legacy Award
2019
The Women of Color Leadership Academy was incorporated to provide the Penn community access to brilliant minds, vital resources and the realization of the talents we all hold within.
2020
Globally, we have been dealing with a pandemic and in order to keep our community safe we made the Women of Color Awards virtual for 2020 and 2021. We look forward to the day we can celebrate together again, safely.